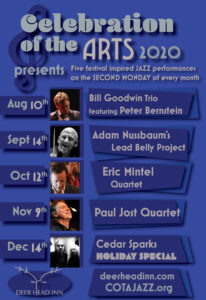 2020 COTA JAZZ FESTIVAL and COToA FESTIVAL
May 22, 2020 Delaware Water Gap, Pennsylvania
As of this writing, the COTA Jazz Festival (along with COToA Festival) has decided to join other festivals worldwide in ensuring the safety of its loyal patrons during this uncertain time of pandemic.
Regretfully, we announce that the 2020 COTA Jazz Festival will be cancelled this September. After 42 years of music and arts, our dedicated community has become family. Be assured that it is with love and concern that we come to this difficult decision.
COTA CampJazz is also cancelled. We will certainly miss hearing how returning musicians have grown in their art and will be sorry that we won't be meeting new musicians who come to learn and play.
In the meantime, we ask that you watch our website and all social media for any new developments. If we can find a format through which to bring you music, we will indeed.
About Celebration Of The Arts:
Created in 1978 by Phil Woods, Rick Chamberlain, and Ed Joubert, the COTA festival has united world-class musicians, performing artists, and visual artists with music and arts lovers from near and far.
As a not-for-profit 501(c)3, COTA's mission is to celebrate a community of arts. Any donation you can make will play a vital role in supporting our future events and the artists who make those events possible.