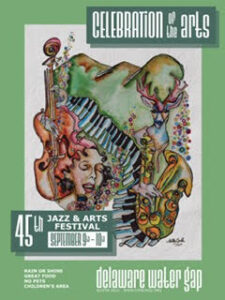 MAIN STAGE
SATURDAY 9/9
12:30 Gabrielle Stravelli Quintet
2:00 Jay Rattman Group
3:30 Jon-Erik Kellso and the EarRegulars
5:00 Eric Mintel Quartet
6:30 Water Gap Jazz Orchestra
8:00 Erin McClelland and Friends
SUNDAY 9/10
12:30 Mike Lorenz Trio
2:00 Hot Takes Trio
3:30 Silvano Monasterios
5:00 Nicole Zuraitis Quartet
6:30 Christian Porter
DEER HEAD
SATURDAY 9/9
4:00 Davey Lantz Quartet w/ Jonathan Ragonese
5:30 Nancy Reed Quintet
7:00 Giacomo Gates
8:30 Jam with the Bill Goodwin Trio
SUNDAY 9/10
4:00 Alan Broadbent Trio
5:30 Paul Jost and Jim Ridl
7:00 Nellie McKay
8:30 Jam with the Bill Goodwin Trio
About Celebration Of The Arts:
Created in 1978 by Phil Woods, Rick Chamberlain, and Ed Joubert, the COTA festival has united world-class musicians, performing artists, and visual artists with music and arts lovers from near and far.
As a not-for-profit 501(c)3, COTA's mission is to celebrate a community of arts. Any donation you can make will play a vital role in supporting our future events and the artists who make those events possible.