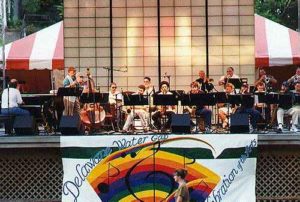 Festival Orchestra Photo By Bob Bush
Album Review - Neil Tesser, Playboy Magazine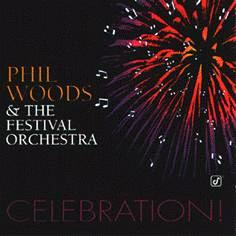 CELEBRATION! marks the first recording on which Phil Woods has led a big band of his own design. The annual Celebration of the Arts (COTA) Festival is, likewise, the brain- child of Woods, Ed Joubert and lead trombonist Rick Chamberlain, founded in 1978. The members of the Festival Orchestra come from their native Eastern Pennsylvania environs to join their leader in a hard-driving testimonial to the fact that, in Phil's words: "Jazz is international, but it's also local." Augmented here by the members of Woods' quintet, it's also terrific…
"Think globally, act locally" – the phrase became a mantra to political and social activists in the 1980s. The Festival Orchestra that Phil Woods leads on this album – and the circumstances of its formation – suggest that jazz has benefited from that philosophy as well.
At least, jazz has benefited in the Poconos, where the internationally renowned saxophonist has made his home for nearly a quarter century, and where virtually all the musicians on this album live and work. "It's always been a dream to get the big band thing going," says Woods. He's come close – on occasion, he has expanded his regular quintet to a lovingly textured octet.
But CELEBRATION! marks the first time that Woods has led a big band of his own design on disc. "I've been wanting to do an album like this for a good 10 or 15 years now," he says, "and to have it done by my neighbors, well, that makes it kind of sweet." The fact that his neighborhood harbors a wealth of jazz talent – augmented here by the members of Woods' quintet who happen to live in nearby New York – helps make the music "kind of" terrific.
Neither social nor artistic activism takes place in a vacuum, so a bit of history is in order. The Festival Orchestra has its roots in New York, where a cornetist and arranger named Dick Cone led a rehearsal orchestra before moving to Eastern Pennsylvania in the mid-70s. By the mid-80s, Cone found himself leading a similar sort of band at the Deer Head Inn in Delaware Water Gap, the locally famous jazz club immortalized on recordings by pianists John Coates and Keith Jarrett. Cone chose a whimsically tasteful name for this band (which included Woods and all of the section players heard on this recording) – he called it Grandma's Soup. But after Cone died a few years later, the band adopted its current name, in honor of its association with the annual COTA Jazz Festival.
A bit more history: COTA stands for Celebration of the Arts, the jazz festival founded by Woods and lead trombonist Rick Chamberlain in 1978. "We were in the Deer Head one night, when there were a lot of good jams going on, and we said, 'Let's move this sucker outdoors.' So we lined up two or three groups, put up a few tables in the park, and jerry-rigged a bandstand." The COTA Festival, held each year the weekend after Labor Day, has grown to a three-day event that features a total of 20 bands, all of them drawn from musicians who either live or have lived in the surrounding environs. "If they move to New York, they're grandfathered in," Woods explains, "and everyone gets the same bread – $100 – to play."
In addition to appearing at each COTA event, the Festival Orchestra has extended its impact by mentoring the "COTA Cats," a band of promising high school musicians that each year play a new, commisioned piece under the guidance of Woods and his colleagues. (Act locally.) This year (1997), however, COTA has splurged and commisioned a piece by Jim McNeely for the Festival Orchestra, to honor the Festival's 20th year. "It'll be great for the Festival," Woods admits, "but it'll also prove to the COTA Cats that jazz doesn't end after college – and that a 16-piece band is still a hell of an exciting thing."
Of course, the kids could listen to the music on this album and get the same message. You'd expect nothing less from Woods, who came of age in the big bands that still roam the earth in the 1950s. That fact may sound strange, given the arc of Woods' subsequent career. Along with his contemporaries Cannonball Adderley and Jackie McLean, Woods defined the alto saxophone in jazz after Charlie Parker's death in 1955, primarily in the small combos that dominated bebop; during the next four decades, he honed one of the most personal and recognizable styles in all of jazz and displayed it in the context of quartets and quintets.
But writing and arranging have held an interest for Woods his entire musical life – "even as a kid, when I wrote for my high school bands. I'm almost sorry I didn't pursue it more strongly." As a player, his first major break came in the mid-50s as a member of Dizzy Gillespie's big band, where each night he got to play arrangements by three of the most distinctive orchestrators of the time: Ernie Wilkins, Melba Liston, and Quincy Jones. Quincy took time to tutor Woods in his writing; eventually, Woods would play in Quincy's own jazz orchestra (1959-60), and right after that, he assembled a subtle and swinging nonet for what remains one of the finest recordings in his marvelous career, THE RIGHTS OF SWING (digitally available on Candid Records).
Woods' fame derives from his splendiferous saxophone style, full of swagger and vitality and an absolute command of the post-bop vocabulary, which allows him to effortlessly interweave musical quotations in his soloing. You hear this on the album's very first solo, which features an allusion to Art Farmer's famous improvisation from "Farmer's Market," and that you hear it as well in Woods' writing. He borrows a bass figure to be found in Miles Davis' "All Blues" for his arrangement of Willow Weep For Me, and later drops in a snippet of Leonard Bernstein's "I Feel Pretty"; on All Bird's Children, he fittingly interpolates the famous introduction of "Parker's Mood." "As Time Goes By" finds its way into Goodbye Mr. Evans, Woods' oft-recorded homage to Bill Evans; and astute listeners will have a field day with the riot of references that make up How's Your Mama.
You can probably expect more of the same. Woods wrote all but one of the album's arrangements, and he hopes to increase his output, thanks to hard drives and microprocessors. "Ever since I got my computer, it's a whole new ballgame. I'm entering in the music I've been scribbling on matchbook covers, I'm writing all the time, and I can hear it as I work on it. It's just part of getting all your jams and jellies together." What's more, he wants to tour this band, at least once, in Europe or Japan.
Think globally. "Jazz is international," Woods says, "but it's also local, and that's an important point" – a point that he and the Festival Orchestra have hammered home in Pennsylvania for 21 years now. Now it's coming to a neighborhood near you.
NEIL TESSER
Jazz critic, PLAYBOY magazine
Lineup
WOODWINDS
Phil Woods – alto sax
Nelson Hill – alto sax & flute
George Young- alto & soprano sax, flute
Tom Hamilton – tenor sax & clarinet
Lew Delgatto – tenor sax & clarinet
Jim Buckley- baritone sax & bass clarinet
RHYTHM SECTION
Bill Charlap – piano
Steve Gilmore – bass
Bill Goodwin – drums
Ed Hudak – percussion
TRUMPETS
Ken Brader III- lead
Brian Lynch
Jan Betz
Patrick Dorian
TROMBONES
Rick Chamberlain – lead
Hal Crook
Keith O'Quinn (& bass trombone)
Jim Daniels
Track Listing
1. REET'S NEET (8:52)
solos: Phil Woods – alto sax / Brian Lynch – trumpet / Bill Charlap – piano /
Lew Delgatto – tenor sax / Steve Gilmore – bass
2. NEFERTITI (4:50)
(Wayne Shorter) Miyako Music BMI
solos: Brian Lynch – trumpet / Phil Woods – alto sax / Bill Charlap – piano
3. BANJA LUKA (9:02)
solos: Phil Woods – alto sax / Tom Hamilton – tenor sax / Brian Lynch – trumpet /
Hal Crook – trombone / Bill Charlap – piano
4. GOODBYE MR. EVANS (9:40)
excerpted: AS TIME GOES BY (:12)
(Victor Young/Harold Adamson/Stella Unger) Liza Music Corp./Cebo Music ASCAP
solos: Phil Woods – alto sax / Bill Charlap – piano
5. WILLOW WEEP FOR ME (8:30)
(Ann Ronell) Songwriters Guild ASCAP
excerpted: I FEEL PRETTY (:15)
(Stephen Sondheim/Leonard Bernstein) Leonard Bernstein Music/Boosey and Hawkes, Inc./ Chappell & Co. ASCAP
solo: Hal Crook – trombone
6. ALL BIRD'S CHILDREN (3:58)
(arranged by Fred Sturm)
excerpted: PARKER'S MOOD (:03)
(Charlie Parker) Atlantic Music Corp./Screen Gems-EMI Music Inc. BMI
solos: Phil Woods – alto sax / Bill Goodwin – drums
7. MY MAN BENNY (For Mr. Carter) (6:20)
solos: Phil Woods – alto sax / Bill Charlap – piano
8. PERILS OF PODA (8:52)
solos: George Young – soprano sax / Hal Crook – trombone / Nelson Hill – alto sax /
Bill Charlap – piano / Bill Goodwin – drums
9. HOW'S YOUR MAMA? (Phil's Theme) (5:02)
excerpted: 52ND STREET THEME (:05)
(Thelonious Monk) Embassy Music Corp. BMI
SALT PEANUTS (:06)
(Dizzy Gillespie/Kenneth Clark) MCA Music Publ. (Div. of Universal Studios, Inc.) ASCAP
HARLEM NOCTURNE (:05)
(Earl Hagan) Shapiro, Berstein & Co. Inc. ASCAP
solos: Phil Woods – alto sax / Brian Lynch – trumpet / Bill Charlap – piano
All selections composed & arranged by Phil Woods, published by Music DuBois BMI except as indicated.
Liner Notes & Other Information
Produced by: Bill Goodwin
Associate Producer: Jill Goodwin
Executive Producer: John Burke
Recorded at Red Rock Studios, Saylorsburg, PA
January 21 & 22, 1997
Recording & Mixing Engineer: Kent Heckman
This is an all digital recording.
Piano Technician: Christopher Solliday
Special vintage microphones provided by Joel Katz
Mastered by George Horn
Production Manager: Kathleen Vance
Art Direction: Kent Judkins
Arrangements for the selections on this recording are available from
Phil Woods Enterprises at philwoods.com
Thanks to
Emilio Lyons, Rayburn Music, Boston – The Sax Doctor
Phil Terman, D.D.S. – The Tooth Doctor
John "The Rev" Flick – The Spiritual Doctor
Jill Goodwin – Wife & Best Friend
Allisen Trotter – who, with Mom, keeps it all together!
Joel, Seth, Ben & Rachelle at Joel Chriss & Co.
Bill Goodwin, my producer, drummer, brother-in-law and dear friend
Kent and Lois Heckman – Red Rock Studios
Joel Katz for the rare mics
Garth Woods, Radio Shack, Mt. Pocono – computer guru and Number One Son!
Sandy Neill at D'Addario – Van Doren reeds
Patrick Selmer & Gerard Badini at Selmer, Paris
Concord Records
…and thanks to all the musicians of the COTA Festival Orchestra.
Phil Woods' website is located at
http://www.philwoods.com
Appearances by Phil Woods may be arranged through
Joel Chriss & Co.
300 Mercer Street, Suite 3J, New York NY 10003
(telephone 212-253-0855).
P&C 1997 Concord Records, Inc. Marca Registrada.
Unauthorized duplication is a violation applicable laws.