Dates
"
Monday – July 6: Vienne, France
Wednesday – July 8: Lugano, Switzerland
Thursday – July 9: Cascais, Portugal
Friday – July 10: Porto, Portugal
Saturday – July 11: Wigan, England
Sunday – July 12 : North Sea Festival
Monday – July 13: Molde, Norway
Tuesday – July 14: Molde, Norway
Wednesday – July 15: Perugia, Italy
Thursday – July 16: Torino, Italy
Saturday – July 18: Bayonne, France
Tuesday – July 21: Madrid, Spain
Wednesday – July 23: La Spezia, Italy
Friday – July 24: Pescara, Italy
Saturday – July 25: San Sebastian,Spain
Sunday – July 26: Ibiza, Spain
The luggage call was for 5 a.m., bus departure at 5:30, and we were going somewhere. I don't remember where, but I remember Pat Dorian. He was paying his hotel extras when I came down to the lobby. I said good morning and asked how he was. His reply was illuminating: 'I'm living the dream!' he said. Thanks to Pat and all the good men who helped to make my dream come true as well! I have always wanted to take a big band to Europe during the summer festival season. The following is Pat's superb view of this event." – Phil Woods
Phil Woods & Pat Dorian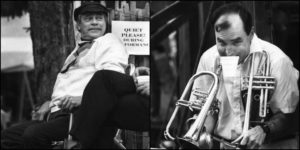 Phil Woods & Pat Dorian
Patrick Dorian has been on the music faculty of East Stroudsburg University of Pennsylvania since 1987 and since 1992 has been chairperson of the U.S. division of IAJE's Educational Jazz Festivals and Summer Jazz Studies, compiling the six-page EJF and SJS directories in the Jazz Educators Journal. His writings include seven pages of the enclosure booklet for the 1997 CD The Urbie Green Quintet: Sea Jam Blues (Chiaroscuro CR[D]338) and a chapter in the hardcover book Annual Review of Jazz Studies 8: 1996 (Institute of Jazz Studies and the Scarecrow Press, Inc.). He holds degrees from Ithaca College and Northwestern University.
Once again, please remember to vote for him when DOWN BEAT magazine creates the all important poll category Talent Deserving Wider Recognition: Split Fourth Trumpet Performer in a Big Band Setting. Please, won't you help?
Introduction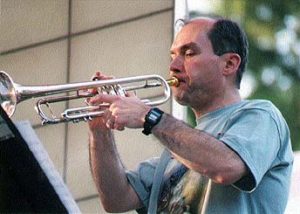 Confessions of a Sideman
Or… A View from the Side (and the Back): How Spanish Jazz Producer Jordi Suñol Moved the 18 Musicians of the Phil Woods Big Band Relatively Unscathed in and out of 8 European Countries 17 Times, on 20 Planes and 15 Buses, Performing 21 Sets of Music in 23 Days (and Nights).
Or… How I Learned to Stop Worrying and Love the Bus.
By Patrick C. Dorian
East Stroudsburg University
of Pennsylvania Music Department
Although primarily known worldwide as an astounding improvisor in small group settings such as his own quartets and quintets (February 1999 marked the 25th anniversary of The Phil Woods Quartet containing bassist Steve Gilmore and drummer Bill Goodwin for the group's entirety), Phil Woods has also been composing and arranging music for big band for five decades. It has been a dream of his to front a working big band of five saxophones, four trombones, four trumpets, piano, bass, drums, and percussion. As he became quite proficient at using a computer in the mid-1990s to compose and orchestrate his music, he entered a substantial portion of the oeuvre from all segments of his career into his computer, revising some of them and gearing most of them to feature the melodic statements and virtuosic improvisations of his quintet as the nucleus of the eighteen-member ensemble. This way he could keep his working quintet intact while enjoying the deep variety of textural densities and orchestral colors that a big band may afford an experienced, artistic arranger. To students of Western music history, I've often thought that this approach must parallel in a striking manner the compositional technique used in the concerto grosso of the latter part of the Baroque Era (1600-1750), where a small group of virtuoso soloists called the concertino would be featured among the larger accompanying ensemble that formed the main orchestral body known as the ripieno or tutti.
At the annual Delaware Water Gap Celebration of the Arts (COTA) jazz & arts festival, founded in 1978 by Phil Woods, trombonist Rick Chamberlain, and the late Ed Joubert in Phil's home village of Delaware Water Gap, PA, a big band had been performing since the late 1980s. The ensemble was founded by former New York City rehearsal band leader, composer, and copyist Dick "Uncle Dickie" Cone as a rehearsal band in the late 1980s and was called Grandma's Soup after a concoction that Uncle Dickie's grandmother used to produce from whatever ingredients were on hand. The group rehearsed and performed at the legendary Deer Head Inn in Delaware Water Gap. Keith Jarrett, Gary Peacock, and Paul Motian recorded a live trio album, At the Deer Head Inn (ECM records ECM 1531 517 720-2) at the inn on September 16, 1992. Keith states in the liner notes that the Deer Head Inn was his first serious trio job on piano and that this recording at The Inn is "what jazz is all about." Pat Metheny and Dave Liebman recently performed at The Inn and as of this writing, The Inn has run live jazz for almost 50 years and now presents over 160 jazz events yearly.
After Uncle Dickie's death in 1991, Phil Woods began leading the big band's performances each September at COTA and the ensemble became known as the COTA Festival Orchestra.
Phil set his big band dream in motion by bringing this group into Red Rock Recording Studio in Saylorsburg, PA, for three days in January 1997 to record a compact disc. It was released in July 1997 as Phil Woods & the Festival Orchestra Celebration! on the Concord Jazz label (CCD-4770-2) and in January 1998 the disc was nominated for a Grammy Award for Best Large Jazz Ensemble Performance (not a bad calling card!). All of the printed compositions and arrangements from this CD, along with dozens of other brilliant Phil Woods works are available from: Music DuBois, PO Box 278, Delaware Water Gap, PA 18327. (2006 editor's note: Arrangements now available online at http://www.philwoods.com. They are no longer available by mail order.)
That same week the group performed to a standing-room-only audience at the 25th Annual International Association of Jazz Educators International Conference at the Times Square Marriott in New York City. Within weeks the ball continued to roll on Phil's fantasy via the formation of a summer 1998 European tour of several major international jazz festivals by the Phil Woods Big Band a.k.a. Phil Woods and the COTA Festival Orchestra. Spanish jazz producer Jordi Suñol organized the tour and it was thought that "Big Band" would be more easily understood than trying to explain and sell the "Festival Orchestra" concept. Not to embarrass Phil, it is believed that he accepted this tour well knowing that it would sacrifice both his health and finances. The personnel of the tour were:
Phil Woods: director, alto saxophone, clarinet(quintet)
Saxophones: George Robert, Jesse Heckman, Tom Hamilton, Lew Del Gatto, Jim Buckley
Trumpets: Ken Brader III, Brian Lynch (quintet), Paul Merrill, Patrick Dorian
Trombones: Jeff Galindo, Evan Dobbins, Kevin Haines, Jim Daniels (bass trombone)
Rhythm Section:
Piano: Bill Charlap (quintet)
Bass: Steve Gilmore (quintet)
Drums: Bill Goodwin (quintet)
Percussion: Ed Hudak
Days 1 and 2: Saturday, July 4, and Sunday, July 5
Jim Daniels and I were on a reconnaissance mission. We were to travel from Stroudsburg, PA, to Vienne, France, one day before the other sixteen musicians to set up the music stands, microphones, etc., for the first performance of the 1998 European tour of the Phil Woods Big Band (PWBB). We left Newark Airport around midnight, getting us to Zurich, Switzerland, at 1:35 p.m. This was fine because it was already midafternoon in Europe and our jet-lagged bodies were that much closer to the evening sleep. We had a three-hour layover, so I took my trumpet mouthpiece and credit-card-sized pitch tuner to a deserted part of the departure area to practice softly. Bad move. After about 20 minutes a uniformed airport employee approached and commenced shrieking. I assumed that I appeared to be doing something wrong as this person reminded me of the Charlie Brown TV specials where Snoopy's tiny bird friend Woodstock is complaining a mile a minute in a language that only Peanuts' characters can understand. I pointed to my mouthpiece and said "musique!" to no avail. I then pointed to my tuner and said "nonincendiarie!" as the employee proceeded to get a colleague/supervisor who then made a vain attempt at caring. I rejoined Jim sheepishly in the crowded waiting area.
The connecting flight to Lyon, France, was on a Swissair subsidiary crossair (remember that name!) and featured continuous champagne and sandwiches as we passed over Berne, Geneva, and the beautiful snow-covered Swiss Alps. I think we eventually landed, and as Jim and I retrieved our luggage we suddenly realized that we had no idea as to how we would get to our hotel. While standing on a long line waiting to be searched, I spotted a person near the front of the line holding up a paper. We thought: Could it be? Yesssss!!! The paper had our names on it. Christoph flashed a mysterious orange card, taking us entirely around the Customs cavity search. He quickly loaded us into a new Peugeot (a corporate sponsor of the first gig) and kept flashing that magic orange card so that guards would raise gates. Out on the highway he tailgated anything he could at 100 kph as Jim regretted taking the front seat. The next day, another driver informed us that Christoph's nickname was "Trouble." That evening, Jim and I walked a couple of miles up the Rhône River and at 21:00 met saxophonist Jesse Heckman in the hotel lobby upon his arrival from Oslo.
Day 3: Monday, July 6
Jim, Jesse, and I got to the concert site, Jim being the "stage meister" to guide the resident stage crew as to how Phil likes his band set up. Jim is not only an accomplished bass trombonist, what with his 20 months with Woody Herman's Young Thundering Herd in the mid-1970s (he's on five of the Herd's recordings) and years subbing and recording with the Vanguard Jazz Orchestra, he also paid major dues as a member of Woody's setup crew and has been heading the local COTA stage crew for years! The band arrived intact with time to spare, Phil handed out some new additions to the band's repertoire, everyone warmed up, and we soundchecked. Bill Charlap immediately sat down at the piano to give it his test, executing Puccini's Nessum Dorma! from the opera Turandot. Hmmm . . . why would he be warming up with that piece? Interesting . . . will we be hearing Giacomo's beautiful melody again? Time will tell.
The 18th annual Jazz à Vienne was a 15-day festival with 11 major sponsors held in an absolutely magnificent stone amphitheater built by the Romans around 200 B.C. It seems to be in better condition than the Coliseum in Rome! During the performance, proud Papa Phil showed his experience as a great leader, realizing that the band was jetlagged and sightreading as he counted off tempos slightly slower than expected. Nice and relaxed and no one got hurt. No train wrecks here! Trumpet wizard Brian Lynch ripped off several typically blazing solos. Unfortunately, ripping was the operative word as his sound was being amplified through a large monitor speaker next to my left leg, angling the sound straight up to my ear, ripping through my left tympanium, and coming out the other side of my head. So much for preconcert soundchecks. I probably broke French stage crew by-laws and turned the speaker directly at the trombone section.
Speaking of trombones, it was our first opportunity to hear Rick Chamberlain's replacement on lead trombone, Jeff Galindo. Unfortunately (?) Rick is principal trombonist of the New York City Ballet Orchestra in Lincoln Center (yes, he wears many hats equally well) and was committed to their July season in Saratoga Springs, NY. Jeff is on the faculty of the Berklee College of Music in Boston and he immediately established himself as a powerful lead player plus an accomplished improvisor. He has a fine CD entitled Locking Horns by the Galindo/Phaneuf Sextet on TTwin TTower Records, available by contacting Jeff by phone (617/547-6763) or e-mail (jgalindo@berklee.edu). Thanks to former Phil Woods Quintet member and Berklee College of Music faculty member, trombonist Hal Crook for recommending Jeff. The second half of the concert was a performance by Carla Bley and 23 musicians of her operatic-type work Escalator Over the Hill written with Paul Haines in 1971. The PWBB viewed some of it via TV monitor while dining underneath the stage. Dinner included pâté and a fine regional beaujolais. Admission for the evening was around $30, approximately 4,000 people attended, and it was broadcast on French Radio and TV.
Day 4: Tuesday, July 7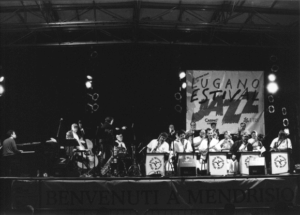 The Phil Woods Big Band in Lugano, Switzerland.
(aka the COTA Festival Orchestra)
L-R of ensemble: Bill Charlap, Steve Gilmore, Phil Woods & Bill Goodwin.
Front row: Tom Hamilton, Jesse Heckman, George Robert, Lew DelGatto & Jim Buckley.
Center row: Evans Dobbins, Jeff Galindo, Kevin Haines & Jim Daniels.
Rear row: Brian Lynch, Ken Brader III, Paul Merrill, Pat Dorian & Ed Hudak on percussion
The band rode the bus six hours into Italy, bypassing Milano and heading north past Lake Como into Switzerland. Paymaster and straw boss Bill Goodwin handed out U.S. currency (more discussion about greenbacks to come) and percussionist Ed Hudak took photos through the bus window at the rate of six per minute. The band watched the videotape of the previous night's performance. Upon arriving at the hotel on Switzerland's Lake Lugano, several of the band members checked into rooms with lakefront balconies and were treated to a double rainbow over the lake. A good omen for the rest of the tour as we had the night off. A vast majority of our breakfasts and dinners were covered by the concert promoters in each city, but on a night off we were supposed to fend for ourselves. Tour producer Jordi stepped in and bought the entire band dinner. He didnít have to do that. Agents often get a bad reputation because of dishonesty by a few. Jordi has been actively pro-musician for decades. Phil tells a lot of stories of how Jordi was the first agent to make sure bands were fed. Heís a considerate person who puts himself in the musicianís shoes. He knows that musicians love to hang out and have a good time and Jordi is often the instigator of these great hangs. As a matter of fact, thanks to Jordi, this dinner received a hang rating of 10 by the band!
Day 5: Wednesday, July 8
The band took over the hotel and the saxophone, trumpet, and trombone sections met in different rooms and rehearsed . . . loudly! starting at 10:30 a.m. It was not a large hotel, but other music groups were also housed here, including popular Dutch saxophonist Candy Dulfer. Also, Bobby Byrd with guest trombonist Fred Wesley from James Brown's famous 1960s band, The JBs. Bobby co-composed James's famous opus Get Up (I Feel Like Being A) Sex Machine, Pt. 1.
The PWBB traveled to a midafternoon soundcheck that would also serve as a rehearsal for some of Phil's new arrangements. Arriving right on time as per the contract, the band ascended the portable stage to find that nothing was set up. The sound people were, however, operating a keyboard (that had a terrible layered sound) through the large sound system that reminded us children of the '60s of preparations for a concert by The Who, documented at one time as being the loudest rock band in the world. You know, the late 1970s type of concerts where people got trampled to death in concrete coliseums. After some sincere, appropriate expletives on the part of the performers and mention that three pages of stage setup information had been sent to the site from Phil Woods Enterprises months ago, one stage crew member sprung into action! The band smelled a long interval of time and immediately scattered into dozens of directions to exchange salary for Swiss francs and to shop. Forty-five minutes later we started a severely shortened rehearsal/soundcheck. Midway through the rehearsal one of the stage crew members slammed a forklift into the stage. I, being a caring partner, turned to my section mates and asked: "Did the stage move for you, dears?" Dinner was back at the hotel outside on the lakeshore. Jordi and Phil were telling stories about encounters with Duke Ellington and Stéphane Grappelli. Fascinating! Also, Bill Charlap and Steve Gilmore made first mention of "Bow Tie," a remarkable singer of whom they possess a tape recording. We were interested in hearing this person, but Bill and Steve made us wait.
Returning to the concert site, the Roy Haynes Trio was performing and the overflow crowd of 3,000 was responding. The performance was broadcast over Swiss National Radio. The 20th Lugano Jazz Festival ran seven days and had 10 major sponsors. Admission was free and this audience heard the PWBB deliver top-of-the-line artistic statements, which was the way the entire tour would go. It wasn't just some nights. It was every time the band performed. The consistency was amazing! Upon returning to the hotel, the moonlight reflecting over Lake Lugano was striking.
Day 6: Thursday, July 9
The band was up by 5:45 a.m. to depart by 6:30 a.m. for a four-hour bus ride to the Zurich Airport. Heading north through the valleys between the Alps was some great scenery; however, inside the bus, two dogmas were becoming well established. The first was who was sitting where. Since most humans tend to be creatures of habit, they usually sit in the same seat, even when changing buses. Thus, each PWBB bus had established an area of permanent personnel known as the Back of the Bus (BOTB). This was a rather vocal group of about eight sidemen who tended to destructively analyze any travel problem whether real, imagined, past, present, or future in a rapid-fire, nonconstructive manner. Any time a potential problem was sensed or reminisced upon, the group erupted into about 35 seconds of verbal violence (usually dominated by people who play an instrument that relies on a slide to change the pitches) that never but never offered a solution to the problem. Yes, the BOTB was very dark, even at nine in the morning (it's an attitude). If the 20 flights would have allowed a back-of-the-plane group to form, more wasted energy would have been expended (fortunately air travel seating is random). In Europe, most buses even have a second door toward the back, conveniently creating "attitude segregation!" By the way, the front of the bus in any big band is reserved for intelligent, responsible persons capable of making important split-second decisions. This is where our leader Phil, tour producer Jordi, and tour guide Billy were encamped.
The second established set of rules involved a Jim Daniels project known as The Program. To be in The Program, a sideman could not spend any of his salary unless absolutely necessary (bring it home!). Since breakfast and dinner were always provided, being on The Program meant when the band stopped for lunch, Program members chose not to eat (not that anyone needed a meal three hours after a large breakfast). If you wanted to spend a little money you had to ask Jim if it fell within the rules of The Program. If it didn't and you still spent the money, you were brought up on charges, risking possible banishment from The Program. Reinstatement could take literally a couple of hours depending on if Jim could be found. Laugh all you want, but this is serious stuff. Sidemen need strict, detailed rules, especially when carrying salary. If you haven't already guessed it, Jim sat in the corner in the very back seat of the bus, surveying all before him, and it was wise to ask permission to sit anywhere near his corner, especially if you needed to stay in The Program.
While heading toward Zurich, the bus passed through Gotthard, the longest tunnel in Europe: 12 miles! (Ever feel like the world is closing in?) This information comes courtesy of lead alto player George Robert, director of the Professional Division at the Swiss Jazz School in Berne and admirer of all things beautiful. George was subbing for woodwind wizard George Young. You must already be assuming that to play lead alto saxophone in Phil's Band you must be formidable, but what I can't understand about George is how such a sweet, friendly person can strap on a sax and play so wonderfully dirty, nasty, greasy, and stankful. Phil featured George several nights on Leonard Feather's composition I Remember Bird as arranged by Oliver Nelson, and every night George had the audience screaming for more. George's 1999 CD The Summit is on the German-based MONS label and features guest artist Phil Woods.
At the Zurich Airport I laid low so as not to be seen by my acquaintance of the first day. Trombonist Evan Dobbins was exhausted, and as we emptied the bus and entered the terminal, Jim Daniels and I had to convince Evan that his trombone and carry-on were not in the building. He claimed that theyíd already been checked and we explained that we didn't even know what airline we were on yet! Jim and I ran and caught the bus before it left, we found the items, and put them in his arms. Evan is not a morning person but functions and performs quite well during the afternoon and night. We boarded the flight for Lisbon, Portugal. Three hours later we were on another bus headed for Cascais, the farthest western point in mainland Europe.
The evening performance was at the Estoril Jazz Festival, in a palm-tree-lined park near the ocean. We arrived to find music stands constructed from wire even though the contract specifically stated "no wire music stands." Our heavy folders really needed sturdy
stands but maybe there were none in the country? Or maybe they didn't care?
The moderate-sized audience took its time taking their seats and as the concert started it seemed like a very low-keyed environment until halfway through the first set someone figured out that Tony Bennett was sitting in the front row checking out Phil and his band. After intermission, Phil was the most gracious of hosts and invited Tony to come up on stage and sing. They decided on Don't Get Around Much Anymore, starting out with the rhythm section as Phil and Bill Charlap presented beautiful improvisations and then the entire band took it home.
This five-day festival had five major sponsors and the audience of 400 paid $17 to attend. Dinner that night was from 12:30 to 2 a.m. (a 20-hour day) at a great little sidestreet restaurant (hang rating: 10). Jordi said that Portuguese wine is one of Europe's best-kept secrets and this restaurant proved him correct, once again. He left us for a few days and would later rejoin us.
Day 7: Friday, July 10
A reprieve! The bus left at noon for a four-hour ride up the coast of Portugal to Povoa de Varzim. The band stayed at a highrise hotel on the ocean. Other than initially attempting to cram the band into two small tables for dinner, an inconsideration that Phil wouldn't allow, a fine dinner was had by all, especially the flan. The performance was at the Casino de Povoa (perhaps for a group of high-rolling jazz lovers?) and the dressing room was intimately guarded by the close Portuguese relatives of Vegas or Atlantic City mob goons who made sure that we musician types didn't steal any of the four walls or a refrigerator or two. One of the stranger scenarios of the tour!
 Back to the hotel by 1 a.m., wake-up calls were set for 3:45 a.m. Several of us wouldn't even think of sleeping for two hours, waking up and feeling worse, so we headed to the disco in the hotel that opened at 1 a.m. and operated until 7 a.m. The observed Portuguese mating rituals were strange to us and any attempted analysis didn't lead to understanding. The loud music consisted mostly of Bee Gees tunes from the 1977 soundtrack of Saturday Night Fever. To bring all of this strangeness to closure for me was the sound system blasting the finale of Carl Orff's Carmina Burana!!! I left in a state of total confusion. Back at the room at 3:15 a.m. I phoned home. After a shower it was time for . . .
Day 8: Saturday, July 11
You don't pay me to perform . . . you pay me to get there!
Phil Woods
The bus started loading at 4:15 a.m. and the BOTB was there first, laying in wait for latecomers. The BOTB always came through! A few of the younger members were a bit late, barely functioning, which led to a slight eruption from the BOTB: "We stayed up all night so that you could be late!?!?" Sounds like fun, doesn't it? We traveled to the Porto Airport and the employees who dealt with us at 5:15 a.m. didn't look happy, perhaps because only a few of us looked happy? We were flying on TAP Air Portugal and Phil informed us that TAP was an acronym for "Take Another Plane" just as TWA was an acronym for "The Worst Airline." The small jet was so crowded that they told us all carry-on musical instruments would have to be stacked on top of each other in the lavatory. Couldn't they hide their disdain for musicians just a little bit? The one saving grace was the impressive outfits worn by the flight attendants. I asked one of them if we could mail order a few of the outfits home for our loved ones. She didn't understand my question.
We arrived in Lisbon and proceeded to sweat out if our British Airways boarding passes would be printed in time to get on the flight to London's Heathrow Airport. Bill Goodwin was on the case and was the epitome of calm, collected coolness as British Airways gave several last calls for our flight as we stood a few feet from the gate. Our substitute road manager Mario was new at this and was too much of a nice person to get results, but everyone's hero George Robert seemed to be making some inroads with the Portuguese contingent of British Airways. Finally, tarmac contact and we were the final 18 people to step on the jammed 767 Airbus. After this flight, the BOTB came up with suggestions for airlines around the world. From now on, install depth charges under the seats of:
 1. people who are sitting next to each other who insist on talking loud enough to drown out the huge Rolls Royce engines for two hours straight.
 2. children who revel in kicking the seat in front of them.
 3. said children's accompanying adults.
Upon arrival at Heathrow, several pieces of luggage were MIA for 45 minutes and Bill Goodwin continued his reserved heroism, this time in the form of a baggage search until trombonist Kevin Haines spotted all missing luggage spewing out onto a far carousel (from Istanbul!). Yes Kevin! . . . the BOTB always came through!
The band rode four hours north to Wigan, a city of 90,000. Upon arrival at the hotel, the band learned about British law that closes pubs at 11 p.m., so the only time to visit was before the gig.
The band performed at the Wigan International Jazz Festival in a small performance hall that sold out over 500 seats at $26 per ticket. We figured out that these jazz lovers spent more than that per person at the busiest bar on the tour. The festival runs eight nights and sponsors the Wigan Youth Jazz Orchestra, not unlike our COTA Cats.
During the concert I spotted a tiny red light at the back of the hall. At the beginning of one of Brian Lynch's formidable several-minute trumpet solos I quickly left the stage (Phil later told me that he thought I was getting sick) and made my way to the back of the hall. Sure enough, an unauthorized videotape was in production. I found our road manager Mario and he put a stop to it. Jill Goodwin (Phil's wife and Bill's sister) would have been proud of me! These people feel that since they have made a sizable investment in a video camera, they have a right to videotape anything they wish. If only they would ask permission and offer Phil a copy of the tape, maybe it would be possible. There were dozens of these thieves throughout the tour and we began to ignore them. Anyway, I made it back to the stage in time to play my background parts toward the end of Brian's solo. Brian has released an impressive CD entitled Keep Your Circle Small (Sharp 9 Records C E 1001-2).
The bar back at the hotel had a "late-night license" (whatever the heck that is), but after about 30 minutes some of the band figured out that they'd been up for 40 hours so why not get some sleep.
Day 9: Sunday, July 12
Travels with Phil resumed today as the band rode 45 minutes to the Manchester Airport and bid an emotional farewell to yet another bus. Large lettering on the facade of the terminal at this airport indicates "Welcome to the World's Best Airport." Okay, then why do departing passengers have to go up escalators with their luggage and equipment in two different sections of the airport? Is it because weary travelers enjoy these types of challenges? Shouldn't arriving vehicles be able to drive up a ramp to the departing area? One more important contribution from the infamous architect Frank Lloyd Wrong. If this is the world's best airport, can you imagine what the world's worst airport is like? Several days later, we were to find out.
Upon our arrival in Amsterdam, we got our luggage, Brian Lynch stepped away from the band for a moment, and the rest of us found the bus. Brian subscribes to the Clark Terry philosophy that when asked why he stays so animated in his never-ending performance travels, CeeTee replies "because it's harder to hit a moving target!" Bad timing this cycle, Brian, as a crowd and marching band quickly assembled to meet the Dutch soccer team as they returned from being eliminated from the World Cup finals and then an additional defeat in the consolation game. The crowd went wild as an impromptu parade was formed to escort the team bus containing the returning losers. I can't imagine what the crowd would have been like had they won. Our bus was ready to leave via a side road but . . . where's Brian? He's on the other side of the parade unable to break through! Waiting it out until the unconquering heroes pass.
The band rode past windmills and arrived at The Hague within one hour. The night's performance was at the North Sea Jazz Festival, The Hague. This three-day, $60-per-person-per-day event has been referred to as a "Jazz Supermarket." Several stages operate at once with well-known jazz performers, very crowded, and not always comfort oriented, plus they charge the public 50 Dutch cents to enter the lavatories. Isn't this discrimination against folks with bladder problems? I'm thinking about applying for a lavatory assistance grant. The PWBB followed the Maria Schneider Orchestra and the Vanguard Jazz Orchestra. We were able to say hello to two formidable musicians in the VJO who often perform with us in Pennsylvania and New York City: composer and piano virtuoso and former member of the Phil Woods Quintet, Jim McNeely, and the accomplished trombonist Ed Neumeister. Hang potential was impeded as the VJO had a 4 a.m. departure the next day. Two thousand people attended the concert and it was broadcast on Dutch radio and TV. Hang rating: 6.12.
Day 10: Monday, July 13
We met up with our next road manager Billy Hoogstraaten from Amsterdam. He has a Ph.D. in anthropology and 20 years of experience guiding jazz groups through Europe. This guy was a real people person and really knew what he was doing. We rode back to Amsterdam and flew to Oslo. Going through the metal detector, something on my person set off the alarm. Steve Gilmore followed me and also set it a-ringin'. We were both subjected to an enthusiastic, intimate, lingering search. I know that they're just doing their job, but wouldn't etiquette warrant that they at least take us to a movie and buy us dinner first? (Days later, after several more airport security trysts, I was to eventually conclude that my belt buckle was the culprit.)
Flying from Oslo to Molde included spectacular views of fjords and large cruise ships. We arrived in the town of Molde, population 25,000. For this jazz festival, the town swells to 80,000 and volunteers camp in tents outside of town. Our hotel overlooked the harbor with snow-covered mountains in the background and impressive cruise ships pulled up in front of the hotel. Phil was sitting on the balcony, ecstatically looking out at the water, islands, and mountains with his Norwegian friend of 30 years, Anton Rasmussen. They invited George Robert and me to sit down and have a Norwegian beer with their friend Herbie Hancock. George asked Herbie about his musical soundtrack to the 1967 Michelangelo Antonioni film Blow Up that featured Phil's saxophone performance, and Herbie was forthcoming with lots of private information as to how he made that project fly. Don't worry Herbie, your secrets are safe with the Gappers! Hang rating: 10.
About 400 people paid $21 to hear the band in the club in the basement of the hotel that night and the next night. The six-day Molde Jazz Festival has a few dozen sponsors led by Mobil oil. As the band was announced by a gentleman speaking Norwegian, it was entertaining to hear his only English words: "Grandma's Soup!" Uncle Dickie Cone was probably smiling down at Molde. Another source of entertainment for the band throughout the tour was that no matter what language the emcee was speaking to introduce the band each night, the final words sounded the same: Pheel Woods Beeg Bond! Because of its northern latitude, Molde stayed in daylight until well after midnight. Many festival attendees stayed up all night as part of this Norwegian celebration (ah, the never-ending quest for a great hang!). The sun rose and blazed back into the room around 3:30 a.m.
Day 11: Tuesday, July 14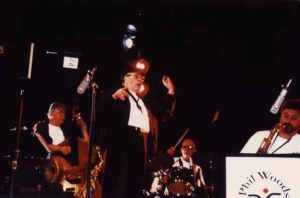 L-R: Steve Gilmore, Phil Woods, Bill Goodwin & Tom Hamilton
Phil's friend Anton did something beautiful. He asked a friend of his to take some of the band on a cruise around the islands on a 49-foot boat that sleeps eight with a satellite tracking system, and the remainder of the band on a smaller, faster boat. Now, no one will blame the reader if this scenario conjures up visions of the scene in the 1975 film One Flew Over the Cuckoo's Nest where Jack Nicholson and the rest of the escapees from the mental institution steal the large fishing boat. No way! The band was quite well behaved except for two verbalized questions: "Doesn't this thing go any faster?" and "Is this all we're going to do, just ride around?" A spirited joke-telling session was held in the main cabin between Phil, Bill Charlap, Steve, Jeff, and Anton. It was a real treat for the band and Anton and his friends were warm, cordial, and wonderfully hospitable. Survey says!!! . . . hang rating: 10.
Carlos Santana was the headliner in town this evening, and while waiting for his ride to the performance, he sat in the lobby of the hotel flashing the 1960s two-fingered peace sign for fans with cameras. That night at the jazz club in the hotel, Phil began Goodbye Mr. Evans with a gorgeous and artistically constructed cadenza. Midway through it, he was competing with some severe crowd noise. He stopped playing for a few seconds, leaned over to a microphone, and stated, "I can hear you. Can you hear me?" and immediately continued. Makes you wonder why the talkers spent all that money to attend. Closed mouths and open ears might help. Why attend when you're going to get in the way of the presentation? Hang rating: 4.93.
Whenever Phil would call up Repetition, the alto tribunal of he, George, and Jesse would be featured soloists. Jesse, one of our accomplished COTA Cat alumni (COTALUM), in his mid-twenties and a recent graduate of the University of Miami, always sounded quite seasoned, coming from a different direction than Phil and George (Lee Konitz, perhaps?).
Day 12: Wednesday, July 15
The Testosterone Tour '98 continued by taking three planes and a three-hour bus ride. Not bad, only 13½ hours of travel. The band flew from Molde to Oslo, then to Brussels. Going through the metal detector in Brussels, something upon or in my person activated the security alarm . . . again. The BOTB crowd was laughing at me . . . again. This time I was escorted by my new friend to a booth, he closed a curtain behind us, and he pulled out a large, long object that he rubbed most places, occasionally emitting a high pitch (the object emitted, that is). I was told to lift my arms, then one leg at a time (?!?!?!). Our encounter concluded and I confidently pushed the curtain aside and reentered the world with a look of just being "checked" on my face. Any further description of this rendezvous doesn't belong in this publication.
The third plane of the day from Brussels to Rome wasn't a Sabena flight as our tickets indicated but contracted out as a Virgin Express charter flight. Uh-oh! Economic? You bet! Comfortable? Not a chance! Two hours of squashed knees, a small, warm soft drink, and many, many screaming children. Thank you Sabena!!! What will you do with all the money you saved? Hang rating: -3.91.
Arrival at the Rome Airport was uneventful (we would return several days later to pay our dues). We rode the bus 3½ hours to Perugia, making for 13½ hours of total travel time that day. We checked into the hotel and had 30 minutes to shower before leaving for the soundcheck. Dinner was at 11:15 p.m. underneath the theater stage and we hit at midnight. Throughout the tour, the goal each day was to reach the vicinity of the performance with hopefully a little time to spare and cool out a bit, but even if time was tight a feeling of relief seemed to come over the band upon arrival at the venue. No reference of what the band had gone through that day was mentioned. It was a done deal and mental energy focused on the impending performance. The unspoken hope was that maybe tomorrow would be just a bit easier.
The 12-day Umbria Jazz Festival '98 had major corporate funding from Heineken, is in its 25th year, and the concert was held in the lovely Teatro Pavone in the incredibly beautiful hilltop town of Perugia in Tuscany. Now this was a festival! Striking architecture, quaint coffeehouses, and lots of quality music. Phil and the band performed for an audience of 700 who paid $17 and the event was broadcast on RAI (Italian National TV and Radio). We ate before the concert and the band loved the white lasagna. Could our taste have been influenced by the fact that we hadn't had a meal in 14 hours? Once again, the well-meaning sound crew didn't understand much about acoustic-based jazz and the monitor system was a nightmare. Bassist Steve Gilmore seemed to never give up, diplomatically pleading with the person on the monitor control board to rebalance the monitor mix on stage to reflect the acoustic nature of the ensemble. At the soundcheck during a few concerts the bass could be heard (and felt) in the next country. If they really wanted to hear how the bottom line is supposed to sound, they could listen to Steve's 1996 CD Reflections in the Night (Jazzmania Records JCD 6018) with Bill Charlap and guitarist Steve Brown.
Several nights, Phil asked the rhythm section to perform a feature selection. Each time they played a different selection and each time Bill Charlap, Steve, and Bill Goodwin delivered stunning works. This night was no exception as Bill Charlap started the trio feature with a prelude of Nessun Dorma! from this theater in Pucciniís home country. Ah, so that's why Bill was going through this piece before the first concert back in Vienne, France! Many audience members could be seen mouthing the operatic lyrics from Act III of Turandot during Bill's performance, reflecting the wonderfully constructed melody and Bill's sensitive, expressive interpretation. Absolutely lovely! Bill's recent CD All Through the Night features Peter and Kenny Washington on the Criss Cross label (Criss Cross 1153). Outstanding jazz writer Ira Gitler attended this concert.
Another interesting musical characteristic of the tour was the several nights that the tenor saxophonists on the band, Tom Hamilton and Lew Del Gatto, followed each other on virtuosic improvised solos during the same selection. They have very contrasting styles yet they complement each other beautifully. Personality wise, they too are opposites: Tom would seemingly say a few words each week, but when he did, they were killers with such great timing and striking intelligence; Lew talks to anyone at any time, despite his illustrious career of decades in the New York City studios and through the 1980s and 1990s as band member, arranger, and contractor of the NBC Saturday Night Live Band. His recent CD Katewalk features Randy Brecker and Steve Turré and may be obtained by leaving a message for Lew at 770/592-1241. Lew remains one of the most unassuming and kindest people I know. Just ask his good friend, the equally unassuming and kind Jim Buckley in the bari sax position. He, Jim Daniels, and I had the right side of the band sown up, each of us "anchoring" our sections.
The band arrived back at the hotel at 2:40 a.m. and wake-up calls were set for 8:30 a.m.
Day 13: Thursday, July 16
The bus left at 10 a.m. and we arrived at the hotel in Torino, Italy, at 6 p.m. Metropolitan Torino has 1.4 million residents. At 9 p.m. representatives from the JVC Newport Jazz Festival Torino picked us up in Ford cars (Ford was one of the sponsors) and drove us to some park to have dinner before the performance. We locked several of our instruments in one of the cars and ate. After dinner, we rode across the city in the cars that didn't have the instruments, arriving at the Piazzetta Reale, a plaza surrounded by gorgeous architecture. Only one problem: the car with several instruments (including mine) was still back at the park because the lovely person driving it for the evening misplaced the keys. This incident also stranded three or four band members across town. Just as the lovely person gave permission to have the car window smashed with a rock so that the instruments could be accessed, someone arrived, having found her keys. Emotions ran the gamut from frustration to joy: only in Italy! Those of us at the stage were ready to go on as the car finally arrived. Whew! (The next day Phil told a great, relevant, humorous Jerry Dodgion story about the similarities between Italian Hell and musicians on a live TV show in Italy. Rehearsals went beautifully for both days but, when the live broadcast started all mayhem broke loose and the punch line is "they found the hammer.") This solved problem totally overshadowed the weak wire music stands that the trumpet and rhythm sections had to work with . . . again. Paul Merrill and I spotted several unauthorized videographers, we informed Billy, and he got security and nixed several of them, but they seemed to be everywhere. Six hundred people paid only $9 to hear the band close this eight-day event as this festival had major corporate (JVC) and government sponsors.
Day 14: Friday, July 17
How to turn an 8-hour trip on a day off into a 13-hour trip
The bus left at 10 a.m. from Torino, headed back east to Savona on the Mediterranean Sea, then traveled west along the Italian and French Rivieras, ending up two-thirds of the way across France in Toulouse. Our printed itinerary indicated a leisurely eight-hour ride. I don't think so! However, the topography is killing! Incredible vistas exist every few minutes. Mountain villages on the right, seaside villages on the left. Go through a tunnel beneath a mountain, over a bridge over a gorge with the sea on the left. After three hours we stopped for lunch near the town of Ventimiglia just before the French border at what appeared to be be a tiny truck stop. Good! We'll stop for 20 minutes and get a snack. Wrong again, oh trumpet section anchor! A tiny concrete box of a building with a bland facade was in actuality a really good Italian restaurant right off the highway. Home base! Phil said "Let's have lunch!" Five courses and 2½ hours later we were back on the bus, passing Monte Carlo, Nice, and Cannes.
As the band entered its tenth hour of travel and the consensus was reached that we still had a way to go, trombonist and BOTB aristocrat Kevin started a betting pool to guess the arrival time at the hotel. Fun, except he allowed tour director Billy in on it. Bad move! The man does this for a living! He has insider information! Of course, he won the pool. By the thirteenth hour the bus was quite loud as we reached the hotel close to 11 p.m.
Evening off.

Day 15: Saturday, July 18
The bus departed at 10 a.m. and the printed itinerary indicated a three-hour ride to Bayonne, France. Would we manage to turn that into six hours? No, the trip took three hours as planned. Through the sound system on the bus Steve Gilmore and Bill Charlap finally treated us to the recording of the singer "Bow Tie." An indescribable experience other than that I think traditional holiday selections were the original intent. During the listening session a remarkable occurrence: finally, after over two weeks, the BOTB was stone silent! No comments, no observations, no nothing. This is how remarkable (and drastic) this recording is. "Bow Tie" must be experienced to even attempt an explanation.
We arrived at the hotel in Bayonne and were elated to see Bill Dobbins (Evan's father), the accomplished piano performer/composer/transcriber formerly of the Eastman School of Music and now director of the amazing WDR Big Band in Germany. He had just finished performances in Spain and drove up to hear the PWBB at the ninth Jazz-aux-Remparts, a six-day event with 24 sponsors held in three venues around town. We performed in a huge tent near the seventeenth-century fortification (rempart = rampart). The concert was going very well, and halfway through, as the band prepared to perform Goodbye Mr. Evans, Phil's 1980 stunning memorial to the great pianist Bill Evans, Phil spoke French to the audience, discussing the passing a few days ago of important French tenor saxophonist Guy Lafitte. Phil dedicated this performance to Guy's memory and renamed the piece Au Revoir Monsieur Lafitte for this performance. Phil proceeded to play the heck out of this miniature symphony. This is one more example of where Phil has dedicated this haunting melody to an important person's memory as he did at COTA in 1996 with Goodbye Mr. Lehr in tribute to Bob Lehr, owner of the Deer Head Inn for 40 years. Six hundred people paid $27 to hear the band and a French jazz group.

Day 16: Sunday, July 19
We had two days off to relax and walk to town to do laundry and shop. George Robert is Swiss-French, so he could indoctrinate Steve Gilmore and I in the ways of French soap dispensers in a local laundry. You put the francs in a coin slot on one wall and the soap is dispensed across the room at the opposite wall. Wow!!! We were amazed!
Upon returning to the hotel someone told me that trumpeter and vocalist Clark Terry had arrived and was looking for me. At 78 years young, CT is one of the most important figures in the jazz history of the second half of the 20th century and has been guest soloist with our University Jazz Ensemble at East Stroudsburg University of Pennsylvania in 1989, 1991, and 1999. I found him with Phil near the pool and we exchanged affectionate greetings. CT proceeded to tell me a funny story. Less than 24 hours ago he had been the guest artist at the July Jazz Getaway workshop at Moravian College in Bethlehem, PA (45 minutes southwest of the Gap). He had asked several musicians if they knew Pat Dorian and how he sincerely hoped that Pat would be stopping by to say hello. They told CT that they knew Pat but hadn't heard from him recently. Clark returned to his home on Long Island late Saturday afternoon and a few hours later went to the airport and flew to Paris and then Bayonne. He arrived at the same hotel that we were staying in, met Phil, asking him who's in his big band. When Phil said that I'm on the band, CT exclaimed that he was looking for me yesterday in Bethlehem, Pennsylvania, but had to fly to France to get to visit with me!
CT asked me what trumpet part I was playing and I told him fourth. He asked me why I was playing fourth and I told him because there were no fifth trumpet parts (or sixth trumpet parts). I continued to discuss this with Clark by explaining that I was playing "low-lead" trumpet in the band because my fourth trumpet part often doubles the lead trumpet part down an octave (and you better play in tune with the lead player). The fourth part doesn't have the physical challenges of the lead part and Clark asked jokingly if I ever needed an assistant on the fourth part. He and Phil came up with the term for me of "split fourth" trumpet player, which big band musicans find very funny that the part would ever need to be split up for endurance sake. It stuck and for the rest of the tour when George Robert would call my room he would ask for "the well-known split fourth player." Phil also saw me warming up at subsequent performances and jokingly encouraged me to continue getting ready as the "split fourth" trumpet part is absolutely crucial to the evening's presentation. Our poolside discourse concluded with the proposal of a new category in the DOWN BEAT magazine "Reader's Poll": Talent Deserving Wider Recognition: Split Fourth Trumpet Performer in a Big Band Setting. Each and every IAJE member is encouraged to vote for Patrick Dorian when this most important category is established, whether you believe he is deserving or not. Please, won't you help?
It's a small world in the global jazz community and Dr. Clark Terry is one of the biggest people in it. A huge heart, mega-artistic capabilities, and a sense of humor that never stops.
Walking into town along the river, we noticed discoloration flowing into the water from the riverbank about every 50 feet. You guessed it! Raw sewage and lots of it! The kicker is that the fish love it and the locals know to drop their fishing line at these junctures. I believe I now know where the inspiration to name Bayonne, New Jersey, came from.
That evening Phil and I went to hear our Easton, PA (45 minutes south of the Gap), neighbor, the formidable pianist Mulgrew Miller, perform with his trio at the cloister area of the magnificent 13th-century Bayonne cathedral. A passageway with a wall on one side and an open, grassy area on the other, all within the confines of the church property, a great place to listen to music. Before the concert we went inside and marveled at the several incredible, priceless stained-glass windows. Phil's observation was, "At least they [the Church] did something beautiful with the money!"

Day 17: Monday, July 20
Another day off in Bayonne. George Robert and I checked in on Clark several times in case he needed anything and later I helped him check his blood sugar (he is diabetic) and to get dressed for his performance. We went back to the tent for dinner and I said hello to Stanley Turrentine, our guest soloist at ESU in 1996. "Mr. T," CeeTee, and Mulgrew's trio performed . . . great artists and human beings
.
Day 18: Tuesday, July 21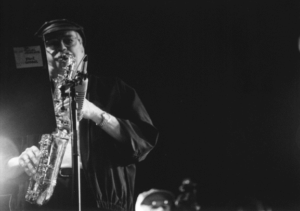 Phil Woods

Phil was very sick with flu-ish symptoms. Ironic in that he did all the right things on the two days off:slept well, swam, napped, and ate right. No fair!
July in Spain can be hot and it was real hot! We rode the bus eight hours to an area 45 minutes west of Madrid, Spain, and performed in the courtyard of the Royal Monastery of San Lorenzo of El Escorial. This is a massive building founded by Spain's King Felipe II in 1563 and completed in 1584. It was the autumn residence of Spanish kings during the 17th through the 19th centuries and most of the Spanish kings are buried in the mausoleum. There is information in travel books indicating the bodies were dried out for 15 or 20 years before actual interment (the BOTB loves that concept), but I'm not sure that I understand the theory. We performed for a summer subscription series; many of the attendees were studying in the area for the summer. The band sounded excellent and Phil felt the audience wasn't too enthusiastic (it was pretty obvious), so he announced "Our final selection is Repetition. Your indifference tonight has been overwhelming." It was one of the few concerts of the tour that we didn't end with Phil's theme song How's Your Mama? and of course no encore like so many of the audiences demanded. Another irony involved the feeling that this was the lamest audience of the tour on the same night that Phil did what he had to do to perform while ill. We returned to the hotel at 12:45 a.m. and it was not air-conditioned! Our rooms were at least 90 degrees. Help! Wasn't the hotel in Norway air-conditioned? Spain is not? Hang rating: -9.90. Wake-up calls were set for 4:30 a.m., a good time to call home.
Day 19: Wednesday, July 22
The entire band was on the bus before 5:30 a.m. to travel to the Madrid Airport to fly to Geneva, Switzerland, and then to the French Riviera city of Nice. Changing planes in Geneva, our boarding passes indicated Swissair, but as we stepped onto the tarmac . . . could it be? . . . YESSSSSS!! It's crossair, the same airline as the first day from Zurich to Lyon! Crossair was quickly becoming our favorite airline with the champagne, sandwiches, large chocolate discs, and toys for all the children. Such class! We had a one-hour bus ride to Antibes, an incredibly active town on the Côte d'Azur (Riviera). The hotel was right on the Mediterranean and it was hot . . . in more ways than one! The BOTB went to the extremely crowded beach, walking around for quite a while looking for an empty chaise lounge and suddenly it hit a couple of us: Hey wait a minute! What the Hell is this? This isn't right! Many of the women are topless!!! This really angered, confused, and incensed the BOTB to the point that we said if they can do it, so can we, so off came our shirts. In our anger, we had no shame! These people are so free of American worry, guilt, and paranoia and this is a terrible thing, so the BOTB decided to write a letter to the president of France condemning this tolerance, but we lost the address.
That evening we were really ready to perform at the 38th Festival de Jazz d'Antibes Juan-les-Pins. Antibes is the name of the entire area and Juan-les-Pins is the small beach section where the event was held. "Pins" translates into the Mediterranean pine trees that are so prevalent in the area. Claude Monet's 1888 painting Cap d'Antibes features one of the pine trees with the Mediterranean and hills in the background and the performance site was situated in a grove of the pines on the beach with the incredible Mediterranean sunset directly behind the stage. The poster and printed program cover featured colorful artwork very similar to Monet's painting, depicting the topography, much like the artwork on the COTA festival poster and program featuring the Delaware Water Gap or local landmarks. The Antibes festival has been of major jazz historical importance with landmark performances and recordings by most major jazz artists of the 20th century. A case in point is the record album Miles Davis in Europe recorded there July 27, 1963, featuring Herbie Hancock and George Coleman, who we would be meeting up with two days later near Pescara, Italy.
An exciting part of the band's performance that night was our guest soloist, the incomparable tenor saxophonist Johnny Griffin. Johnny is originally from Chicago, moved to France decades ago, and in January 1998 he came to the Gap as a guest on Phil's first feature album for Blue Note Records. It was recorded at Red Rock Studio in Saylorsburg, PA, is titled The Rev & I (Blue Note 7243 4 94100 2 2) for a song Phil wrote about his good friend John "The Rev" Flick. It was produced by drummer Bill Goodwin and was released in the fall of 1998. After a few tunes by Phil and the band (including another memorial performance of Au Revoir Monsieur Lafitte), Johnny came out and played many improvised choruses on Phil's composition Banja Luka, which Phil composed for Quincy Jones' Big Band in the late 1950s and is named after a town in Yugoslavia. A hysterical incident occurred as someone pointed out to Johnny after 15 minutes on stage that pieces of sheet music he conveniently stored in the bell end of his saxophone to transport the music easily to the stage were still in the bell during his performance! The band and audience got a tremendous kick out of Johnny's and Phil's reaction to this discovery. The concert was broadcast on French TV and hopefully this special moment didn't get edited out. Johnny then performed an original composition with the rhythm section, Phil joined them for All the Things You Are, and the rest of the band reentered the stage ready to surprise Johnny with their rendering of Happy Birthday as a large saxophone birthday cake was brought out to celebrate his 70th birthday. We concluded our portion of the program with Repetition. The second half of the evening featured French violinist/trumpeter Didier Lockwood and his group. There were 2,500 people at the concert, general admission was $18 (more for a reserved seat), and this event had seven major sponsors.
Antibes nightlife is a whole other universe with thousands of people crowding the narrow streets and small bars until after 3 a.m. We were relieved to see that the women had put their tops back on. None of us hung, but it looked like a potential hang rating of 10.
Day 20: Thursday, July 23
We headed east and rode 5½ hours along the coast to La Spezia, Italy, a port city of 120,000 on the Mediterranean, known for its shipping industry. During the ride the BOTB set into motion a deceptive scheme, deciding not to tell Ken Brader III that humans are not supposed to perform the lead trumpet position as great as he was, especially with such a grueling travel schedule. The physical demands of playing lead trumpet are tough enough when musicians get routine rest let alone with the rigors of touring. On the many nights that the audience encouraged Phil to play an encore, Phil would come back on stage and perform his arrangement of Benny Carter's 1936 slow swing, soft ballad Just a Mood. Phil started the piece playing clarinet extremely soft, wreaking total havoc for each sound crew (hint to crew: it's supposed to be soft), and Ken Brader's stratospheric, electrifying, swinging, grooving solo in the middle of the piece had to be heard to be believed . . . every time . . . after having already played for well over an hour. The BOTB strategy worked. Ken never figured it out and completed the tour performing formidably each and every night (most nights with one lung on idle!).
We arrived at the hotel and while walking around the city I finally spotted what I had been looking for the entire time in Italy: a store that sells hand-painted Italian bowls and plates. Presenting her incredible cooking on these bowls and plates is one of my wife Mary's two passions in life and I purchased a lovely, large dessert plate. Only problem was that it couldn't travel safely in my suitcase, so it hung out of my trumpet bag for the final five days as a carry-on. It survived the rest of the tour.
The band closed the five-day 30th Annual La Spezia International Jazz Festival. This event featured one major performing group each evening and had five corporate sponsors. About 500 people paid $20 to attend. Phil once again opened the performance with Fred Sturm's outstanding orchestration of Phil's composition All Bird's Children. Fred is on the faculty of the famed Eastman School of Music and this up-tempo burner is one of the highlights of the Celebration! CD. Each time Phil called A.B.C., it got faster, and by the 20th day of the tour the tempo was probably around quarter note = 421 beats per minute for all we knew!! Why does Phil perform things at those tempos? . . . because he can!
Dinner was from midnight to 1:30 a.m. in a great family trattoria near the hotel. Drummer and producer of dozens of albums Bill Goodwin was a great maintainer of the morale of the band during the entire trip and tonight was no exception. He was "the glue" that kept the band sane as he spent some time during the tour hanging with each musician. Not that we had any problem person in the band whose "jerk light" would go on. Most of us would go out of our way to help each other when ill, exhausted, or had full hands, especially at the airports. We slammed on doors at 5 a.m. to make sure that we were all getting ready to roll. Lots of joke telling concluded the evening. Hang rating: 10. Throughout the tour there was a great deal of laughter. It goes along with the philosophy that if people aren't laughing and having a good time at your corporation, classroom, meeting, or home, something is wrong. Laughter is part of the creative process that leads to inventive solutions of life's problems.
Day 21: Friday, July 24
We rode the bus eight hours across Italy to Pescara, a city of 160,000 on the Adriatic Sea. The Pescara Jazz '98 Festival is in its 26th year and had six sponsors. It's held in the nearby coastal resort village of Francavilla al Mare and runs seven nights. Outside funding helps keep ticket prices between $7 and $20 each night and 2,300 people heard our program, which we shared with the George Coleman Quartet. Noted jazz writer Ira Gitler was once again in attendance and reviewed this evening's performance by the PWBB and the entire Pescara festival in the November 1998 issue of DOWN BEAT magazine (The Real Deal Sustains Pescara, page 68). The band ate an early dinner (9 p.m.) at a killer restaurant that kept bringing fish kebobs featuring many fruits of the Adriatic. We performed from 11:15 p.m. to 12:30 a.m., and when Phil introduced his composition Banja Luka, he said it was composed for a town in Yugoslavia "right over there," pointing over the Adriatic Sea toward the former Yugoslavia. We were back in the hotel by 1 a.m. and wake-up calls were set for 5 a.m.
Day 22: Saturday, July 25
Phil Woods has definite ideas about the curriculum he would use if he were to teach at a college.
"I would charter a bus and get all the kids and I'd have them get their printed music arrangements together and their music stands. I'd get uniforms for them. Have them get all their crap together, pack it and get on the bus, close all the blinds, and just drive around the campus for 8 hours– don't go anywhere, no visual delights to intrigue them. Get off the bus, set up, pick out a set of tunes, tune up, put their uniforms on. That's it; they're not going to play any music. Pack up, back on the bus another eight hours, circle some more, then have a talk with them: 'All right, now, who wants to do this? Because this is what it is.' It's an exaggeration. I admit it doesn't have to be that way, but it's just an exaggerated reality, because they're not getting any reality in school."
Phil Woods quoted in the 1993 book The Jazz Exiles: American Musicians Abroad, by Bill Moody, pages 111-112.
The bus left at 6 a.m. sharp for a three-hour drive to the dreaded Rome Airport. The George Coleman Quartet was also on the bus and they had taken over the BOTB. These gentlemen were quite talkative and loud. No problem for me since I suffer from the curse of not sleeping well on moving vehicles, so the four of them, myself, and fortunately the bus driver were the only folks awake on the bus. We arrived at the Rome Airport with time to spare so that we could spend some additional time in hell on earth. It was the first weekend day of the vacation season when most of Italy goes someplace for August and this place was a disaster! A bazillion people were rushing around and the people at our airline of force-upon, Iberia, seemed to know nothing. The PWBB didn't fool around when checking baggage and we had it scientifically lined up immediately where it stayed for one hour and fifteen minutes. We too didn't move for the same amount of time until some fool from Iberia started moving our luggage away from the check-in station for some intended purpose that was not in anyone's best interest. We were not happy about this, which means the BOTB crew was reveling in the darkness of these events (even though we weren't in a bus, the attitude was transportable). Once this cretin was stopped, we waited a while longer (hang rating: -5.17) and finally walked to the departure gate to find that (you guessed it) the flight was delayed! We eventually boarded the plane and finally . . . arrivederci, Roma, and on our way back to Madrid, but wait! It gets better! Of all the airlines we flew on the tour, we finally found one where most of the flight attendants didn't speak English! Not that the rest of the world should speak English just for us, but couldn't they get one person who could learn to say, "Sir, you can't put that friggin' instrument in the overhead!" in English instead of grabbing it from us. Approaching Madrid later than scheduled, they read off the wrong departure gate for our connecting flight. The band rushed to the connecting flight gate to find that the flight was . . . you guessed it! This flight was delayed! A few minutes later Chick Corea and his latest acoustic ensemble Origin arrived to make the same flight to Bilbao, Spain.
Arriving in Bilbao, the band boarded a small bus for the one-hour ride to San Sebastian, Spain, a city of 180,000 in the Basque region of northern coastal Spain. We arrived at our hotel and got up to our rooms at 8 p.m.–14 hours from hotel to hotel. Not bad! Fortunately, the temperature and humidity we experienced in Spain four days earlier had dropped significantly. The midnight performance was at the 33rd Donostiako Jazzaldia Festival on the harbor. An island, a hillside, hotels, and casinos were brilliantly illuminated around the water and the reflections on the water were an astounding backdrop at the performance site. The hillside contains a large white cross, not unlike Corcovado in Rio de Janeiro, Brazil. This was a six-day event with more than 20 government and corporate sponsors. Over 3,000 people attended the midnight concert.
During this performance, George Robert was testifying on I Remember Bird, and in the middle of George's improvisation, Phil encouraged him to take us higher with a verbally enthusiastic appeal to George's degree of cleanliness, Swiss nationalistic pride, and his mom. This was one of the most appreciative audiences of the tour, and no matter how tired the band might have been, these people earned an encore (even the BOTB agreed). Jordi was leaving us tonight and asked everyone to go with him to toast the end of a successful tour. Once again, Jordi paid the bill, showing his classy and sincere appreciation, and the band returned to the hotel after 2 a.m.
Day 23: Sunday, July 26
We left the hotel at 9 a.m. for a one-hour bus ride back to the Bilbao Airport. It took over an hour to check in, and guess what? The flight was delayed. We flew to Madrid, changed planes, and flew to Ibiza, Spain, one of the three main Baleares Islands along with Mallorca and Menorca, about 100 miles off the southeast coast in the Mediterranean. After arriving at the hotel we had five hours off before dinner. Ibiza has a permanent population of 25,000 that swells to 100,000 in the summer. The band performed at the base of a massive wall of a fortress from centuries ago. Colorful lighted graphics were projected on the wall. Opening the evening was Madrid's Modern Sax Quartet, a very fine group. We performed from 11:45 p.m. to 1:15 a.m. and Phil told the audience that this was the final evening of one of his career dreams, a touring big band recording and performing his big band compositions and arrangements. He then complimented the entire band on their musicianship and cooperation. The feeling's mutual, Phil. We were closing the three-day Muestra de jazz injuve Ibiza '98, which had four government sponsors and 600 people paying $9 for the evening. We were back to the hotel by 1:45 a.m.; wake-up calls were set for 8 a.m.
Day 24: Monday, July 27
Headin' home!!!
We left the hotel at 9:30 a.m. to get an 11:10 a.m. flight to Barcelona. At the Ibiza Airport, we bid a tearful adieu to our final bus and boarded an Iberia (uh-oh!) plane. Jesse Heckman left us in Barcelona to head to his apartment in Oslo and we boarded a Swissair (relief!) flight to Zurich where we said goodbye to George Robert. During the four-hour layover in Zurich, the aches, chills, and sweats of some bug hit me and I was down for the count. The nine-hour flight to Newark was pretty tough for me, especially since the movie was a Leonardo DiCaprio double feature. As we flew over the North Atlantic where the 1912 disaster occurred, Titanic was well on its way down and Jeff said, "Here we are flying over that same area. I hate irony." All I could think of was that my flu-ridden body would appreciate a dip in the cool North Atlantic about now.
Arriving at Newark was frustrating because another flight arrived simultaneously at 10:30 p.m. and passport control only had six people on duty for 400-plus arrivees (welcome back to the USA?). It took 45 minutes to get to the outside air of Newark. Jill Goodwin was on the case, meeting us with the van, and she was the epitome of efficient loading and driving. I was home by 1 a.m. Again, not bad–21½ hours to get home. Tom Hamilton and Jim Buckley added another hour or so to get to Scranton, PA, and Jeff, Kevin, and Lew stayed overnight at Newark to catch a morning flight to their homes.
A few weeks later the band performed six nights at the famed Blue Note jazz club in New York City in August where we reclaimed Rick Chamberlain, Jan Betz, George Young, and Ed Neumeister. One evening featured a live broadcast via the Internet, and as jazz writer Ira Gitler was once again in attendance he wrote a summer summary of the PWBB on the Internet for Jazz Central Station. For the week, over 2,000 people heard the band along with the Jacky Terrasson Trio as they paid a $30 cover charge plus a $5 drink minimum plus parking and other expenses/risks. Lead alto saxophonist George Young has been a studio icon in New York for decades, and as many of us were jammed into the tiny band dressing room upstairs, he asked us how the tour went. As Lew Del Gatto gave George an extensive blow-by-blow account, George was aghast and kept responding to the descriptions of the travel by saying "how unhealthy" and "You're all still alive?" Lew then asked the 12 of us who were standing around listening, "And how many of you had a good time?" Twelve hands went up.
And, of course, the band performed for our neighbors and long-distance visitors at the 21st Annual Delaware Water Gap Celebration of the Arts jazz & arts festival in September 1998 . . . in the same lovely little village and on the same stage where it all began for Phil Woods and the COTA Festival Orchestra!