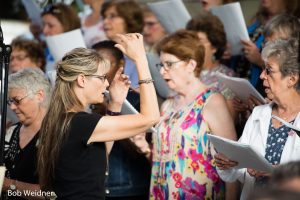 It's only four weeks until the 2018 presentation of the Jazz Mass at the COTA Jazz Festival on Sunday, September 9, 10 AM. This is an invitation to all singers to join this year's Jazz Mass chorus.
Rehearsals are scheduled for three consecutive Tuesdays: August 21, August 28, and September 4 at 7:00 PM.  They will take place at the Presbyterian Church of the Mountain in Delaware Water Gap.
There is no audition required. Each chorus member will receive a complimentary admission to the festival for Sunday afternoon.
Please join us in presenting this unique musical composition.
For additional information, please contact Bob Nickels at (570) 460-4641 or gapbob@ptd.net