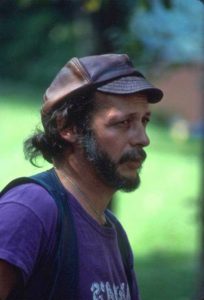 Ed Joubert
Letter to Joubert - August 17th 2009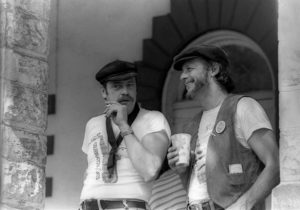 Phil Woods & Ed Joubert
Another year shot to heck! How are you Ed?
Our annual local constant has rolled around again – our 37th jazz picnic. Lots of action on the jazz front this year. We completed our second Celebration big band CD for Chiaroscuro Records and sales while modest are consistent. One of the perks of that project are our regular 'last Monday of the month' rehearsals at the DHI. This event has fostered great interest and gives me and other arrangers a chance to write and hear new music. Some of which we will play today!
As I get a little closer to the head of the line I wonder occasionally about your after-life experience. How's the ole man? Does he have an old lady? Is she cool? Can you get on-line and does he do email? Do you have cable and do you watch Colbert, Jon Stewart and John Oliver? Do you have an I-pad? How's the food? What's the guest room situation? – Christmas dinner must be a blast, Easter not so much would be my guess. Drop a line when you have a moment. Come to think of it eternity must be chock full of moments n'cest pas?
The family is well. Number one son Gar and his family are a delight. Just gave grandchild Christopher a clarinet. Start the kid off with the "Agony Stick". Jill continues to amaze me with her energy. I never leave the house and Jill is never home, but thankfully one of us is working. Jill is the best and I love her very much. Allisen and Rocky and my other grandson Chase (he has a flute) continue to delight. Rocky works in our office and is a welcome helper when I have a chore that is beyond my grasp. (There are many!) His sister Mariah has received awards for her organization using Skype for families with Alzeimer's victims. If you know of anyone suffering this horrendous affliction go to growinguppurple@alz.org. for help and information. Kim is fine and is singing her big heart out. Sadly she lost her brother Baird but I am sure you already knew that. Give him a kiss and hug for us.
Music biz is quiet. Life is full of sound. I continue to squeeze the Lemon of Life to the last drop. My memory is fantastic but extremely short. Well that's my story and I'm sticking with it. Time to brush my tooth, put on my COTA T-shirt and get on with it.
Time marches on and I am double-parked.
Phil Woods
Letter to Joubert (37) - June 4th 2014
Dear Ed,
Old friend, we miss you! It has been ages since we spoke and I wanted to Phil you in on the Gap! (Sorry, I couldn't resist!)
Ed, would you believe that it has been twenty-nine years since we started the Celebration of the Arts? Amazing! It seems like only yesterday when you, Rick Chamberlain and I looked at the array of talented jazz musicians lined up on the Deer Head Inn bandstand, waiting to jam. There were so many, they were spilling out through the screen door behind the piano and the porch looked like the IRT at rush hour! And when the fateful words were uttered, I forget by whom: "We could have a helluva festival if we moved it outside."
So the next year we did, and a helluva festival it has become. Our local artists, many with international credentials, measure their yearly artistic growth by this local Rosetta stone. They always bring their best dishes to our lavish artistic table.
Every year some friends are lost and we all move up a little closer to the head of the line, richer for having known and loved them. Our most important work goes well. I know how much you value young people – like the time you put a chair in the middle of Main street to slow down the nuts that speed through our town and endanger everyone. You would be proud of the work that Pat Dorian does with the young musicians who enliven our lives and area. The COTA Cats are not only an integral part of our program, thay are the keystone of our community!
Our growth can also be measured in the amount of snow-fence that we have accumulated through the years. Bob Lehr loved discussing snow-fence at meetings. Anyway, we now have enough to seal both the Mexican and Canadian borders! I sleep better knowing this!
Some folks still don't have a clue as to what is going on here. Some quarters hold that the committee is getting rich from the Festival. I know I can always use the $100 bucks I get for performing! The other day someone asked why the same groups appear year after year. I told her it was because they lived here and were festival supporters, a requisite to performing here. She was surprised at this. Strange! It's been twenty-eight years and some are still waiting for Kenny G.
Stay well old friend and enjoy your new company. I'll keep you posted on the COTA Cats 28th – that should be a helluva party!
Phil Woods
P.S. Wherever you are, please lobby for good weather.